With the COVID-19 pandemic disrupting lives across the planet, hundreds and thousands of schools and educational institutes adopted distance education and remote learning via online classes.
Last year showed us that if given the infrastructure and proper planning, many educational activities can be carried out with technology's help.
However, there is still a lot of room for improvement as digital resources continue to show us how they can be further utilized to increase student engagement, nurture experiences, and expand course offerings.
According to a recent study by Ed Tech Magazine, the inclusion of technology in schools around the globe continues to grow with around 48% of students reporting the use of computing devices. Furthermore, around 42% of students use smartphones, while 33% use interactive whiteboards along with 20% using tablets.
Nevertheless, traditional utensils like pen and paper are still used by 90% of students and 73% report the use of whiteboards in classrooms. The US leads with 75% of classrooms allowing the use of computing devices. In light of this information, let's take a look at how technology can improve the education system today.
Immersive Environments
Immersive learning environments are usually described as the creation of learning environments through artificial or simulated environments that can help improve student's attention and retention. One of the oldest renditions to such an educational environment can be taken from a planetarium example.
With the help of audio and visual feedback audiences can be led to believe that they are truly observing the cosmos. Likewise, I consider that each subject, including mathematics, literature, science, medical, and even those studying business studies can be provided with uniquely designed immersive environments that can augment their learning experience.
Augmented Reality
The augmented reality industry is projected to grow at a tremendous rate in the coming years with a 77% CAGR predicted by the IDC (International Data Corporation) for the period 2019-2023.
Hence, it is very much likely that technology could be utilized to deliver support for students' learning and education. Some of the significant benefits include:
A better understanding of complex concepts through content augmentation.
Improved spatial learning, including learning of sophisticated structures and functions.
Enhanced physical task performance based on comprehension and grasping of shared knowledge.
Superior collaboration between students and more student enthusiasm towards learning.
Virtual Reality
Similar to augmented reality, virtual reality is another digital trend that can also make a huge difference when it comes to education. There are already several virtual reality-based, educational applications available, such as:
Anatomyou – a VR app that offers a perfectly immersive experience to learn about the human body for users utilizing various perspectives along the way.
InMind VR 2 – a strategy game with a mix of the human brain's neuroscience, where the user has to make decisions to grow a young teenager boy called John into a full-grown adult.
Titans of Space – a journey through a holographic Solar System where family members can go for a virtual tour and discover some of the largest cosmic entities in space.
The gaming world also offers such learning opportunities and you can learn more about how the video game Minecraft provides an Education Edition where students can learn coding skills and much more through building worlds in a virtual reality environment.
Software & Tools
With the passage of time as technology is progressing, we are also observing how the latest in tech is currently being improved to deliver stupendous tools and software capabilities. Some of the best educational software and tools available right now include:
edX – a massive open online course provider that was created by Harvard and MIT. Currently, it offers online university-level courses for a wide range of disciplines for students worldwide.
Google Classroom – a free web service that offers ease of use to create assignments, grading, and distribution, thus allowing a streamlined manner of sharing files, b/w pupils, and teachers.
Khan Academy – created in 2008, the educational company aims to deliver online tools that can educate students. You can also visit the site online to learn lessons in the form of videos.
You can find many more that are highly recommended by education experts here:
Best Online Learning, Teaching & Tutoring Platforms to Close the Attainment Gap
Interconnectivity of Resources
The internet powers and connects us throughout our personal and professional lives, and with the advent of smart computing devices along with IoT (Internet of Things), the possibilities are limitless.
Schools and educational institutions can utilize this to connect various campus and online resources to deliver marked improvements for students and their learning process. A lot can be achieved from biometric devices to cross-check attendance to cloud services that allow students to research material on a virtual library.
Consider a sick child who couldn't attend school receiving classroom notes with the help of images shared by the teacher that was captured by cameras recording the whiteboard throughout the duration of the lesson. Young learners looking for cheap dissertation writing services today can be enthralled to know about such technologies being made available to them on-campus.
Advancing Research
When it comes to academic research, technology can pave the way to make students utilize various online resources and as well as tangible ones together to conduct studies about particular subjects.
Today we have various online academic research portals that allow young scholars to study particular topics in detail with reference to renowned authors' works all over the world. Some of the best online resources for scholarly research include:
EBSCOhost – an information services company headquartered in Ipswich, Massachusetts. It offers services and products to libraries of various types around the world, including its research platform.
JSTOR – a digital library of academic journals, books, and primary sources that was founded in 1995 in New York City. Today it encompasses a wide variety of journals and academic resources.
PubMed – a free search engine that primarily offers ease of access to the MEDLINE database of references along with abstracts on biomedical topics and life sciences.
Enhance Reporting & Metrics
A lot of schools nowadays are moving their administrative and human resource-related tasks towards digitization. As such, we have observed the emergence of school management systems where primarily models include database management systems with cloud networking capacities. This can allow top management to evaluate teacher and student performance by applying data analytics and various other metrics.
Several types of employee monitoring and project management software can be further integrated to develop unique solutions for schools to carry out entire audits for the whole institutions from peons, supporting staff, leading professors, and school administrators.
Conclusion
With technology showing no sign of slowing down anytime soon, right now we can all just keep our fingers crossed and hope for the best in the upcoming future.
I hope this post was able to offer you some meaningful insights as to how the currently available technology can be used to deliver remarkable improvements in the education system today.
If you think there is more to what technology can do for education, then please let me know by leaving a mention in the comment section. Cheers and all the best for your future endeavours.
Author Bio
Samantha Kaylee currently works as a Marketing Manager at Crowd Writer and Assignment Assistance. This is where higher education students can request professionals to write my essay UK to acquire specialized assistance from experts. She likes to indulge herself in pop culture during her free time, including movies, music, and binge-watching TV series online.
Please include attribution to education.clickdo.co.uk/ with this graphic.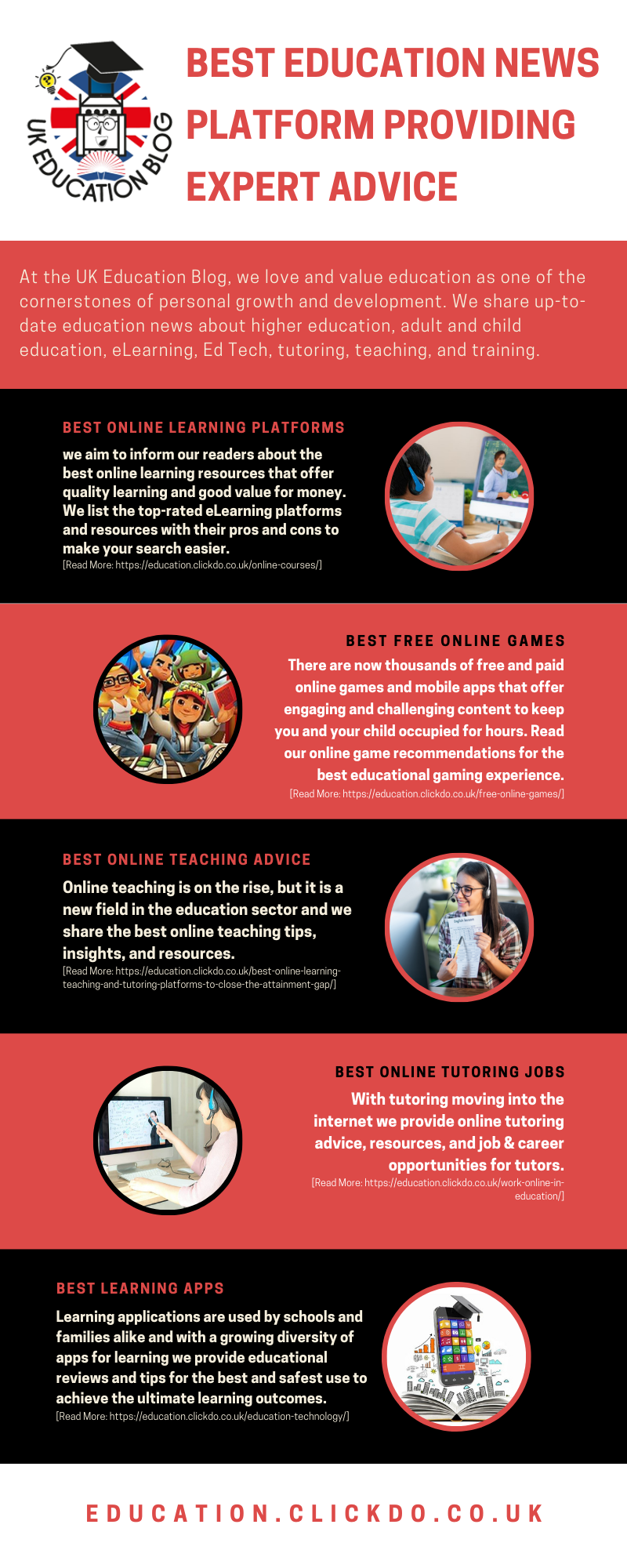 Share this Image On Your Site