Since March, it's been a hard road for many employees.
The United Kingdom's economy will face substantial effects due to COVID-19. Many have lost their jobs as unemployment rates continue to reach new heights, leading to a concentrated effort to search for new roles, jobs, and skills. As a result, many employment trends have surfaced.
Here's a look at job search trends during the Coronavirus pandemic
What Job Searches Are More Common?
A few searches have become more common throughout quarantine. Those who've lost their jobs have started to look for new and alternative positions. Fortunately, it's viable to locate work, and it's no shock that certain posts are more popular than others. There's a growing need for care and service workers amid COVID-19. Here are 10 popular job searches during a lockdown:
Carer (+240%)
Delivery driver (+151%)
Driver (+87%)
HGV driver (+63%)
Electrician (+57%)
Van driver (+47%)
Plumber (+41%)
Store Assistant (+30%)
Project manager (+25%)
Marketing Manager (+15%)
It's not a surprise to see these positions skyrocket. Most people have chosen to order meals and groceries from delivery services. While everyone stays at home, they'll likely need help with services such as electricity.
Countless offices won't reopen for their employees until they can control exposure. That's why roles that require a dedicated office space have dropped within search results.
All workers want to find positions where they'll feel safe. These statistics display a need to meet demands, as well as options to work alongside a few others as possible. Employees need to be comfortable with their daily lives. These results will likely stay consistent over these next few months.
How Have Employment Trends Changed?
Many employment trends have shifted. There are still industries that need workers to fill empty roles, and these sectors have changed to reflect current needs.
While you may not be able to find work like you have before, it's still worthwhile to check out opportunities. It could be an ideal time to venture into another area. Individuals want to use this time to reinvent themselves as employees.
Now's a time to expand your talents if you've wanted to do so for a while. Here are 10 job search trends during Coronavirus to consider:
Customer service
Medical
Transport
Delivery
Administration
Manufacturing
Childcare
Foodservice
Technology
Education
Many companies in these industries continue to create jobs every day. As COVID-19 develops, it becomes easier for businesses to adapt to their customer's needs. There'll be a need for teachers who can instruct online lessons if schools don't reopen.
Furthermore, many jobs are very likely to become fully virtual and workers will be expected to work from their home office. It turns out most employment trends follow these characteristics, which will impact the training required to be able to work online with digital skills, which one can learn with SeekaHost University amongst other eLearning platforms.
Ways to Prepare for a New Position
The most popular sectors seem to align with other frequent job searches. Most roles have moved to virtual spaces.
Unless your job duties require you to deliver or manufacture goods, you'll likely work from home or through similar measures. It's always a smart idea to look for a job like it's a new career. This way, employers will likely see you as a desirable candidate.
It's important to prepare adequately for each role so you can put your best self forward. Always take time to learn about every position, as well as the potential remote working tools you may be expected to be familiar with in the future workplace.
You should also update your CV and cover letter. These two documents give insight into specific skills, so they must be accurate. Keep an eye out for multiple roles, even if they're not exactly relevant. Today, it's anyone's job market.
And if you really want to follow your passion and feel you could start earning online through various freelance or home business ventures then read some of our in-depth guides below:
Best Home Business Ideas by ClickDo
Best Ways to Make Money Online For Students
Best Online Business Ideas For Freelance Copywriters
Job Searches and Employment Trends Indicate Unique Opportunities
COVID-19 has shifted everyone's perspective — and job searches and employment trends follow as a result. The most popular job searches during lockdown indicate how people, jobs, and markets have changed over time. Use these facts to navigate your future career path in the right direction.
About the Author
Alyssa Abel is a college, career, and lifestyle blogger who helps readers make the most of their education, their professional goals, and their lives. Read more of her work on her blog, Syllabus.
Many London Businesses now offer work from home jobs and if this is something you are interested in then have a look at the infographic below and read the full article on the London Business News Blog.
(Please include attribution to www.londonbusinessnews.com with this graphic.)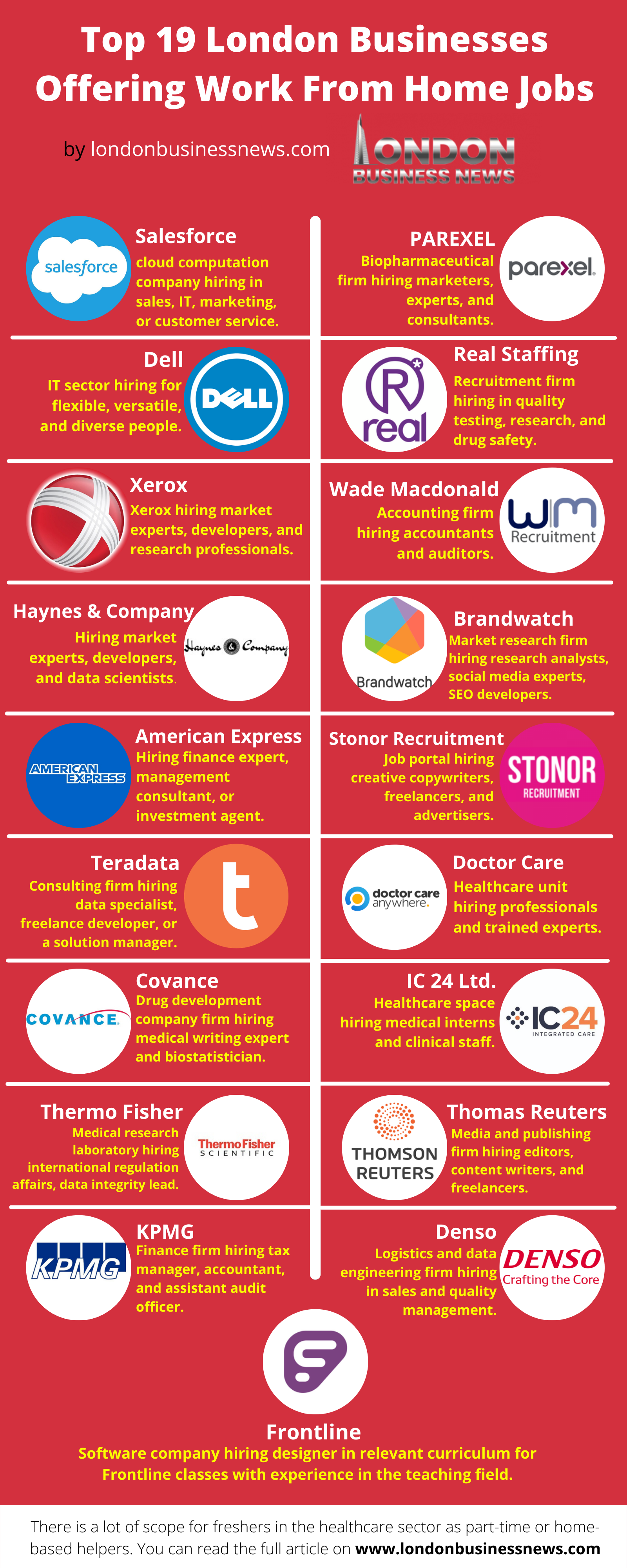 Share this Image On Your Site